Here to help you!  Evolve is a charity dedicated to removing the barriers to counselling by supporting everyone in the local community with face to face counselling sessions at affordable prices for all.
Evolve offers ANYONE 18 and over, of any gender, background, lifestyle and nationality, a confidential and caring environment in which to explore their needs.  Counselling offers you the opportunity to be listened to and to explore how past events or current circumstances or thoughts about the future may be affecting your life.
The counsellor will not tell you what you should do, but will work with you to help you to find your own solutions  This may enable you to make positive changes and could be the turning point to leading a fuller and happier life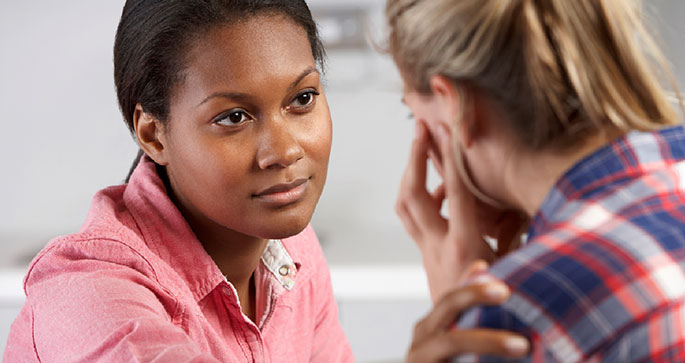 What does counselling help with?
People often seek counselling when they are feeling depressed, isolated or have other difficulties.
For instance, when they experience:
Counselling can help with all of these
How do I know what makes a good counsellor?
If you don't use a Evolve counsellor, always ensure that your counsellor is qualified with a recognised professional body.  Look for accreditation with either Evolve, BACP, UKCP or equivalent to ensure that they are fully qualified and have the appropriate experience.  Try to get a personal recommedation if you are at all unsure.
ALL Evolve counsellors are fully qualified and experienced, work to a minimum of BACP standards and codes of ethics, and undertake extensive personal therapy, regular CPD and DBS checks, so you can be sure you are in safe hands.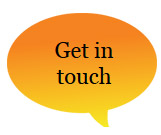 Contact us yourself . You will speak to a reception counsellor who will provide any information you need.
Hunts & Cambs 01223 233047
Peterborough 01733 553166
If you decide to proceed with Evolve, the reception counsellor will take your telephone number and a Evolve counsellor will contact you, usually within a few days to arrange an assessment session.  Sessions are usually weekly thereafter.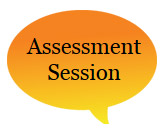 The initial assessment lasts up to 90 minutes and takes place with an experienced counsellor. They will explore with you your needs and expectations from counselling, and ensure that Evolve offers the best service for you.
On occasion, we will recommend that alternative agencies and counsellors are more suited to your needs. We will tell you, if we are not the best agency to help you. We will talk this through with you and if possible, provide alternatives.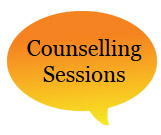 Following the initial assessment, the counsellor will discuss with you the most appropriate service which may be either time-limited or open-ended counselling.
If you are not happy with your counsellor, simply call reception and ask for a different one.
In some circumstances, the number of counselling sessions will be determined by what you can afford.
FAQs - General Frequently Asked Questions about Evolve
People often seek counselling when they are feeling depressed, isolated or have relationship difficulties. For instance, when you experience:
relationship problems
career or work life balance challenges
stress
anxiety
experience bereavement and other losses
lack confidence
feel lonely and unheard
are depressed
have phobias
Evolve aims to provide affordable counselling that is accessible and fair to all.  Evolve therefore operates on a reducing sliding scale based on gross income which makes our counselling more accessible to people on lower incomes.   Our reception counsellor is professionally trained and experienced and can discuss this with you in confidence.
This is extremely rare due to the care taken by the receptionist counsellor to place you with a counsellor best suited.  However, as a professional organisation, Evolve has processes and procedures which you will be made aware of at the reception stage, allowing you to move forward with confidence.
Because we have many different counsellors, if you are not happy with the counsellor you are seeing, simply contact reception and arrange to transfer to someone else.  Your notes can be passed on so that you don't need to go over everything from the beginning.
The assessment session offers you the opportunity to outline and consider the issues that are concerning you.  The session also helps to clarify whether Evolve can offer the most appropriate form of counselling for you.  If we can't then we can offer advice as to where to go next.
An assessment session can last from between an hour and an hour and a half.
Each session usually lasts 50 minutes to an hour depending on the counsellor.
In a totally private environment where you will be comfortable and can talk in confidence. One of the considerations of the receptionist includes convenience for clients regarding location.
We offer weekly sessions, however this can vary depending on the type of therapy and your personal needs.  You can discuss this at your assessment session.
As a minimum Evolve counsellors are required to provide evidence of having completed a course of training involving a minimum of 300 – 400 hours of continuous theory and skills over a period of three years.  They also have to show that they have completed 150 hours of supervised practice during and after the training course.
Careful listening is the largest part of what all counsellors do.
They make sure you have defined the problem areas in your own way and help you decide what you wish to do next.
Some will then be more proactive, offering suggestions for more exploration or beginning to resolve the problems; others are less so and let the work proceed more at your pace.
There are no hard and fast rules. If something is troubling you it can be worth spending some time thinking about why this may be happening. There are, however, a number of issues that frequently come up, for example:
Relationship difficulties: family and friends, colleagues, commitment, jealousy, abuse
Family issues: partners, children, parenting, separation and divorce
Lack of confidence: worried about failing, never being good enough, feeling judged
Depression: feeling isolated, lonely, empty, tearful, unloved, suicidal
Self-harming behaviours: binge eating, cutting, abusive relationships, alcohol, drugs
Bereavement: loss, anger, loneliness, sadness, depression
The counsellor can also direct you to other services that may be useful to you.
You can say whatever you like.
Sometimes there is silence; sometimes you might find yourself saying things you had not expected to say.
The counsellor will help you explore what is going on for you and will keep referring to you to clarify his/her understanding.
Counsellors don't ever give advice like, "I'd leave your job if I was you." The purpose of counselling is to help you make your own decision.
They will never make a moral decision about the course of action you ought to take.
They may sum up what they understand you have been saying so far in order to help you move forward.
They can offer pointers to how others have successfully dealt with common problems and may also make suggestions such as, "I wonder if you have thought of ..."
These suggestions will be drawn from their training in what is helpful and their experience of what has helped others in the past.  You can decide whether or not these suggestions are helpful to you.
Many people think that they are being strong in not seeking help whereas in fact those who can face up to their difficulties could be considered the strong ones.
Asking for counselling often means you have taken the first difficult step on the road to resolving the problem.
Our counsellors work to a strict Code of Ethics which means they must inform you of the limits of confidentiality and then stick to these rules.  This will be discussed with you at the assessment session.
Nearly all of our clients report that they have found counselling useful to help them identify their problem and ways to cope with it so it seems to offer at least some help to the majority of people.  It's not for everyone, but it's definitely worth a try.
At your initial assessment, your counsellor will discuss with you whether talking might be helpful for you – and if not, will help you to look for something else.
You will be asked whether you prefer to work with a male or female counsellor when you first make contact with our reception counsellor.
Having problems is part of being human. Many counsellors come into the work because of their experience of successfully resolving personal problems through therapy.
All Evolve counsellors will have had their own experience of being a client and facing their demons as part of their training.
Therefore, although the counsellor may not have experienced the particular problem which you bring, they will all have had experience of being in distress and of seeking counselling help from another.
No, seeing a counsellor doesn't mean you are ill.
Our counsellors will not treat you as a sick person, but rather as someone going through a bad time.
Counsellors and psychiatrists deal with emotional and mental processes.
Psychiatrists are trained doctors who work largely through diagnosis of illness and then by prescribing a treatment, usually involving medication.
Counsellors are normally non-medically trained people who work by talking and encouraging you to find your own solutions.
Counsellors can, however, recognise the symptoms of severe mental distress and may suggest you seek medical help if this is appropriate.
Please contact us by phone or email to speak to our reception counsellor.  S/he will then allocate you to a counsellor who will meet with you to carry out an assessment. 
The number of counselling sessions depends on you as an individual and what you are bringing to counselling.   The assessment session will help you decide if counselling can help.  Usually you will start with six sessions and review after that.
Speak to your employer to ensure that they are aware of your situation.  If the problem is becoming worse because of something happening at work, or is starting to have a negative impact on your work or attendance, your employer may wish to support you in seeking help.  You may have a Human Resources team or an Occupational Health Advisor who can work with you to ensure you have access to the support you need.
If your employer recognises that an independent counsellor could be beneficial and they are willing to fund this in order for you to access the support you need more quickly, ask them to contact our Business Development Manager for more information on how Evolve may be able to help you.
E-mail:  bdm@evolvecounselling.org.uk
Mental health is about how you feel about yourself, those around you and how you deal with the ups and downs that life brings.  It doesn't mean that you don't have problems, but good mental health means that you are resilient enough to deal with them in a positive way, applying the appropriate coping mechanisms and having a positive impact on your life and people around you.
A person may be diagnosed as having a mental health condition when they have disabling psychological symptoms, an emotional or behavioural problem, or dysfunction in thinking, acting or feeling.  All of these can cause distress and may lead to problems in functioning in the world and daily life.
Anxiety
Depression
Panic attacks
Phobias
Obsessive Compulsive Disorders
Post-natal Depression
The exact causes are not known.  Some people can inherit a genetic propensity towards a psychological condition, but for others it can be an emotional or psychological response to a particular event, or social conditioning, or a combination of all of those. 
Extreme stress can also trigger a person to change the way in which they would normally react to a particular situation, and may be temporary.
There is no single solution for all mental health conditions and an individual clinical assessment is essential.  However, depending on the type and severity of the condition, sufferers can learn to cope with, manage and improve their condition with or without pharmaceutical intervention.  This requires support from friends, family or a clinical professional to reduce the impact on daily life.
Counselling can help the sufferer to identify:
the nature of the problem
the triggers that provoke a negative emotional response
coping strategies to manage feelings and take responsibility for the condition
ways to deal with the condition in a positive way and reduce the impact on the individual and those around them
Encourage them to speak about their feelings either with a trusted and sympathetic friend or qualified professional
Emphasise that asking for help does not mean admitting failure
Reassure them that everyone goes through difficult patches from time to time and that having someone to share their problems with can help
Do not judge or blame them for the way that they are feeling