Other Helpful Organisations:
For 24 hour telephone support free from any phone in the UK, call The Samaritans by dialling
116123
Arts & Minds
Arts & Minds are running a workshop from January - March 2022. Please see below for details: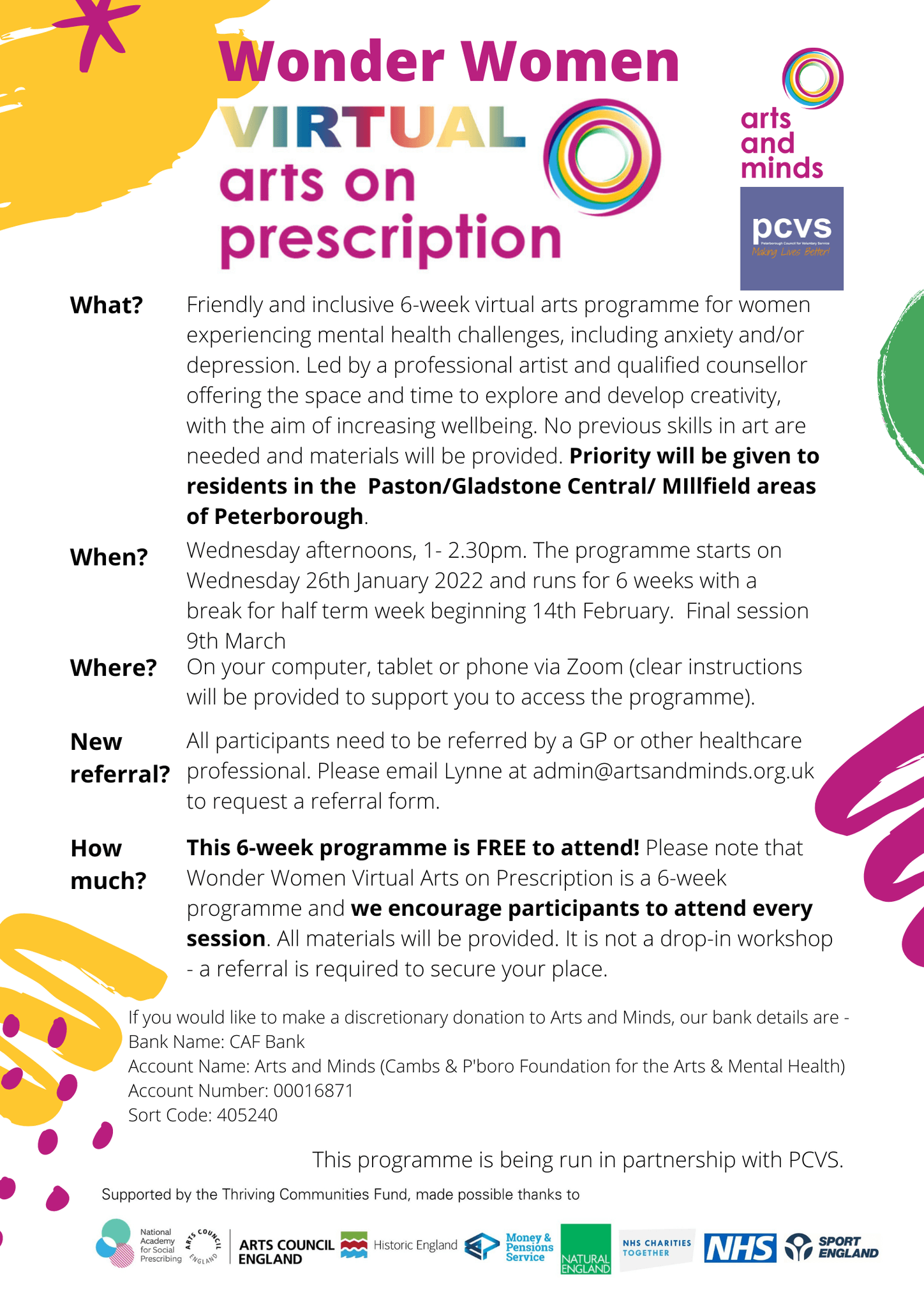 Parents worried about their child under 16 can contact Young Minds on 0808 802 5544
For support with alcohol problems, contact Alcoholics Anonymous on 0800 9177 650
or email help@alcoholics-anonymous.org.uk
Victims of domestic violence can call Refuge on 0800 2000 247
After sexual assault, call Rape Crisis on 0808 802 9999
Those with a gambling addiction can call Big Deal on 0808 8020 133
CFS, ME and Fibromyalgia suffers should contact ME, Myself and Fybro on 07715 883725 or Facebook MeMyselfandFibroUK or via Twitter @MEmyselfFibroUK
Citizens Advice Peterborough - 0808 278 7850  Citizens Advice Cambridge - 0808 278 7808
Information about arranging care for a loved one, see the UK Care Guide
Please note that Evolve is not affiliated to any of the above organisations and cannot be held responsible for the care or advice received from them.
Helpful Videos:
See our You Tube Channel - coming soon!
Helpful Leaflets:
Download our general leaflet
Other Resources:
Like our Facebook page and share our posts so that others learn about the help available
Evolve - Community Counselling Charity
Follow us on Twitter
@Evolve_CCC
Follow us on LinkedIn
Evolve Counselling